More often than not, clients will stick to what they know – but upselling is the perfect way to introduce them to something different. Inviting your clients to try new products and services is not only easier than winning a new client, it's the best way to achieve sales growth whilst also helping your clients to look and feel their absolute best. After all, that's why they come to you!
We've put together 6 top tips to help you boost sales through upselling.
1. Use our upselling feature
Using this smart tool within the service menu, you can offer clients the option to book an extra service with the same staff member at a discounted rate or even buy a membership plan. Your clients get a better deal on the services they like to book, and you can increase your revenue and rebooking rate. It's a win-win! Find out how to set this up here.
2. Look for opportunities to upsell
Booking an appointment, check-in, consultation and payment processing on Fresha's appointment software all provide windows of opportunity to upsell. Allow clients to add-on services during the booking process, and if time allows, give them the chance again when they check-in.
The client consultation is also prime time for upselling. Suggesting services, treatments, and products that you think your clients will genuinely enjoy, or benefit from, is something they'll appreciate too.
3. Run seasonal offers and promotions
Catch your clients' attention through marketing emails and text messages featuring seasonal offers. A good marketing email should include a strong incentive and a sense of urgency (ie available this weekend only).
Our wide range of easy-to-use marketing tools have been designed to simplify the marketing process. Discover how you can use Fresha's blast campaigns to connect directly with your clients.
4. Add-on services
Existing clients are 50% more likely to try out new products compared to new clients. It's a great idea to have a variety of add-on treatments available on your service menu to give your clients the opportunity to upgrade or add extras.
Hair masks, head massages, hand and foot treatments, nail art, hot towel treatments and LED light therapy are all good examples. These added-value luxuries take very little extra time, can easily be added to your service menu. To find out more, click here.
5. Offer packages
Encourage your clients to be more adventurous by offering packages. The bundles you create can be very specifically tailored (e.g. a cut, colour, and style plus an intensive colour treatment), or include a larger range of treatments under a seasonal deal (e.g. Summer Special includes facial, express massage, tanning, manicure, and pedicure).
Think about services that are often booked together and start from there.
6. Sell products
Retailing products remains an untapped goldmine for many salons and spas. The key is to really believe in the benefits of the products you sell. Use them in your salon or spa so that your team can demonstrate how good the products are to the client. Make sure your product display looks attractive by keeping it clean, well-stocked, and organised too.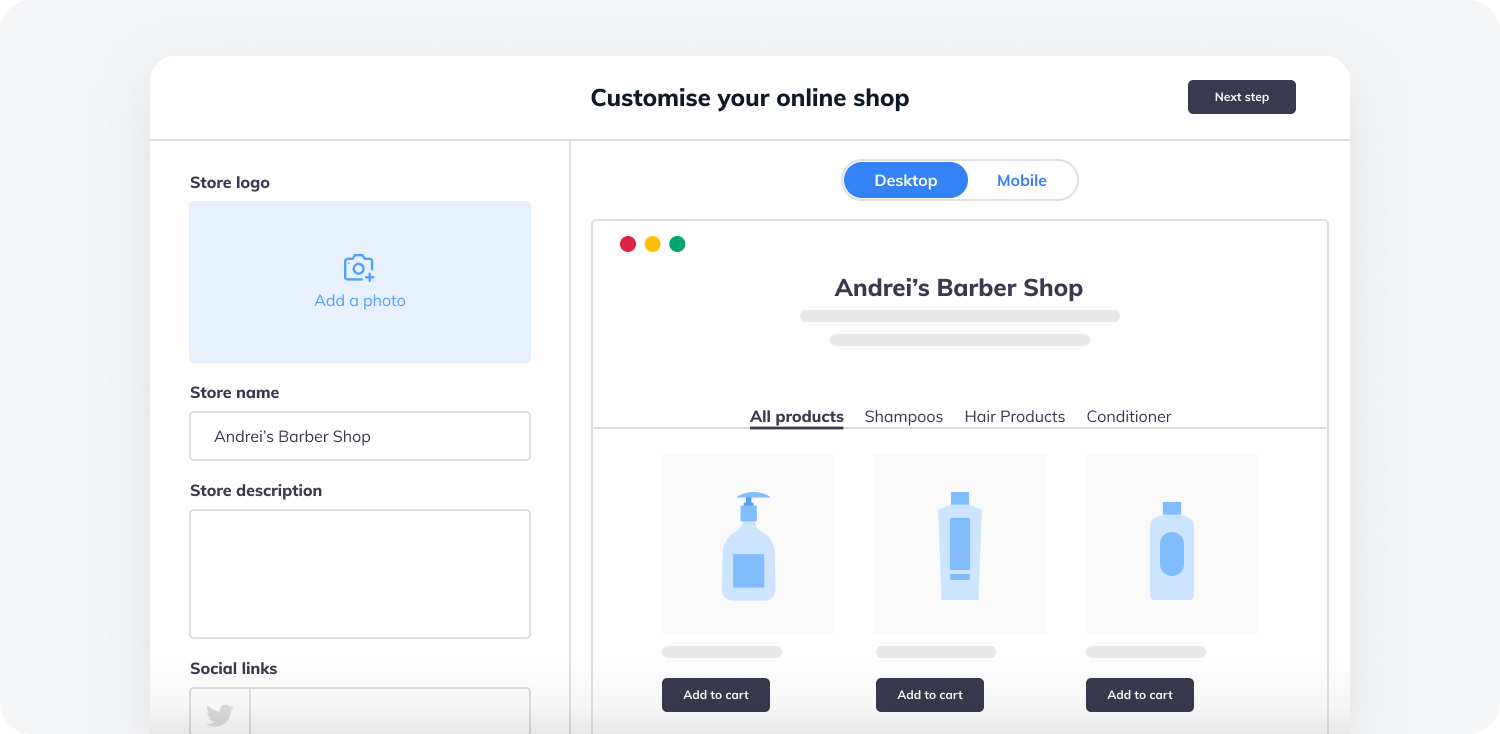 Selling products yields a healthy profit margin, and this is where technology can also help. A Fresha online store allows partners to easily create a professional page and retail products online. Following your client's appointment, you could recommend and point them to the products you used in their service via text or email, and even tempt them with an offer. Buying a product could become a natural part of a client's salon experience next time around. Discover Fresha's new store feature and start upselling online today!
When done in the right way, upselling can have a dramatic impact. Imagine if it became a natural part of the way you do things. Over the course of a year, those extra sales add up to a big difference. And the best bit is that your clients will be happier too. Those extra services they tried could well become regular treats that they enjoy and recommend to friends too!